Hakata-ku is one of the oldest cities in Japan. In the middle ages, it acted as a port and trading hub between China and Korea, and it was officially renamed Fukuoka-shi in 1889. Nowadays, Fukuoka is known for three things:
1. Hakata Ramen – considered some of the best ramen in Japan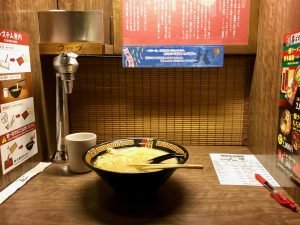 2. Hakata Yatai – the famous nightly food stalls lining the city's river
3. Hakata Bijin – regarded as the most beautiful women in Japan – no pictures here, you will have to go see for yourself! 😉
And after being there, I can vouch for all of these! Fukuoka is not typically a tourist destination, which even through there was less to do and see, made it that much more enjoyable. It also had a unique feel – the people were very laid back in their attitudes and fashion – different from the rest of Japan. It kind of reminded me of Austin back home.
I arrived in Fukuoka at a good time because the Hakata Gion Yamakasa Festival was just starting. The two-week festival starts with each neighborhood creating its own large floats and then concludes with a timed race around the city!
Fukuoka also has a really nice beach (you may see a theme in my destinations) and a lookout tower you can see the whole city and mountains beyond!
Side Note: Speaking of the beach, I barely missed another natural disaster! The day after I arrived in Fukuoka, a huge typhoon hit Okinawa! My flight was the day before my friend Nico's, and he had to stay there three more days before the airport reopened! Whew. Fun Fact: A hurricane, typhoon, and cyclone are all the same weather phenomenon. They are simply defined by where on the globe the storm occurs!
Anyways, so I was walking down the beach one day with a traveler friend Toby (we actually met in China and met up again in Japan), and some locals called us over and asked us to eat and drink with them. Why not! It turned out they were pilots and crew from a Japanese airline on their day off! It was a blast hanging out with them!
And, then it was time. The bittersweet moment when I realized it was my last night in Japan. I feel like I've been here a lifetime already, and I can honestly say it tops the list of my favorite countries. So… of course… I had to end it with eighteen plates of sushi!!
"You have brains in your head. You have feet in your shoes. You can steer yourself in any direction you choose. You're on your own. And you know what you know. You are the guy who'll decide where to go."

Theodore Seuss Geisel
さようなら
Are you curious about living in Japan? Don't be shy in the comments below!