Koh Samui will always be my home away from home, but it's time to move on to the next adventure!
This post is part two of my time in Koh Samui and will wrap up with my remaining photos and captions. I will, of course, miss the beaches, but I will miss the people I met the most. Moving on to the next travel destination always comes with strong mixed emotions. You are really sad to leave, but you are also really excited to get to the next place. So cheers to Koh Samui! It's been a blast!
"When I get sad, I stop being sad and be awesome instead."

Barney Stinson
First up, the coolest place I stayed is hands down these bungalows on the beach. It was like living in a dream! I woke up to the sound of the ocean and stepped right from my doorstep to the sand.
One night, for Kat's birthday, I went over to her family's house and had some authentic Thai BBQ! And if you didn't know, Thai food is eaten solely with a spoon! A fork is only used to cut the food and move it on your spoon. Does that blow your mind or what?
Next up is one of Koh Samui's main attractions. There are these rocks called the Grandmother and Grandfather Rocks… And um… Well… Nothing really to say here! We are usually the ones who make nature into art; this time… nature made us!
Eh em… Anyway… look at this lime!! How many margs could this make??
Every Saturday night, there are free local Muay Thai fights, which are always exciting! It's awesome having the opportunity to sit so close up to the ring.
One day I kind of stumbled upon a little zoo of sorts. It was strange. There wasn't really an entrance, and there was no one in sight? Hmm…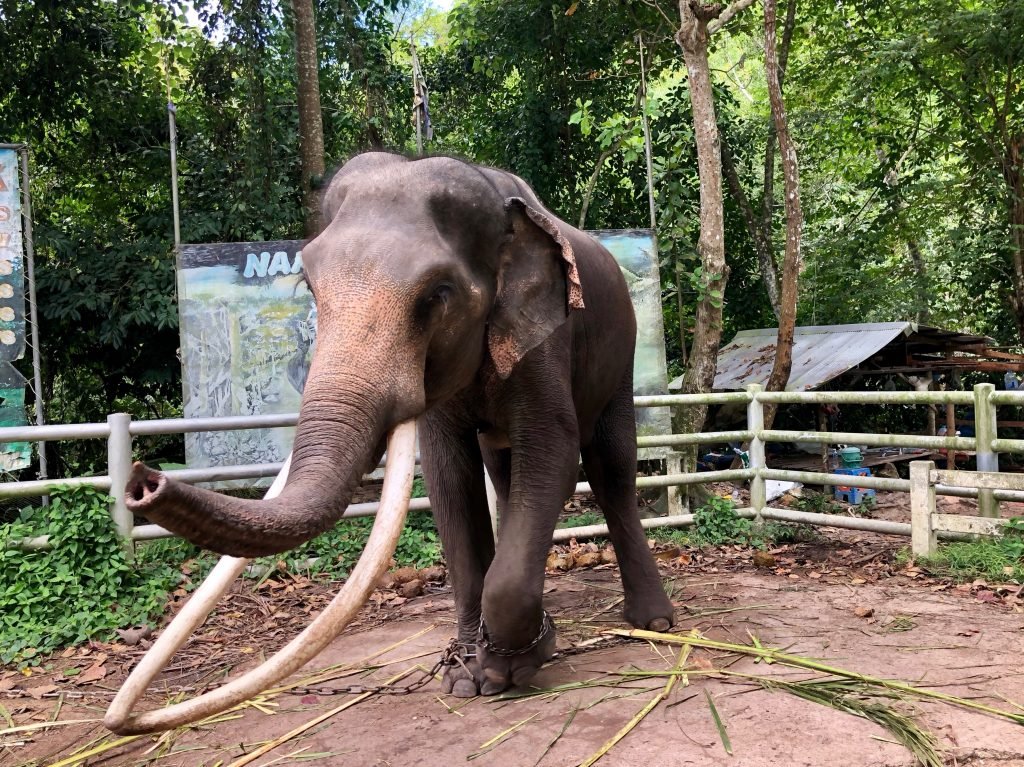 There are a lot of really nice waterfalls around the island, and this one is my favorite. Even though the people down at the road said I was crazy, I climbed up the treacherous rocks instead of using the trail. It only took a couple of hours! Piece 'a cake.
One of my favorite parts of the island is the Magic Buddha Garden. It's a quiet little area in the mountains with a ton of old statues – very peaceful.
One morning I rented a mountain bike and rode through the southern part of the island. Biking is difficult because of all the steep hills, but the south is relatively flat. There were a lot of cool spots: a fisherman village, lots of temples (the fourth picture is the footprint of Buddha?), and great ocean views! I also learned it's nearly impossible to bike through sand. 😮
I concluded my bike ride with a refreshing drink at the local rum distillery. It's very small – so small that a lot of people on the island don't even know it exists!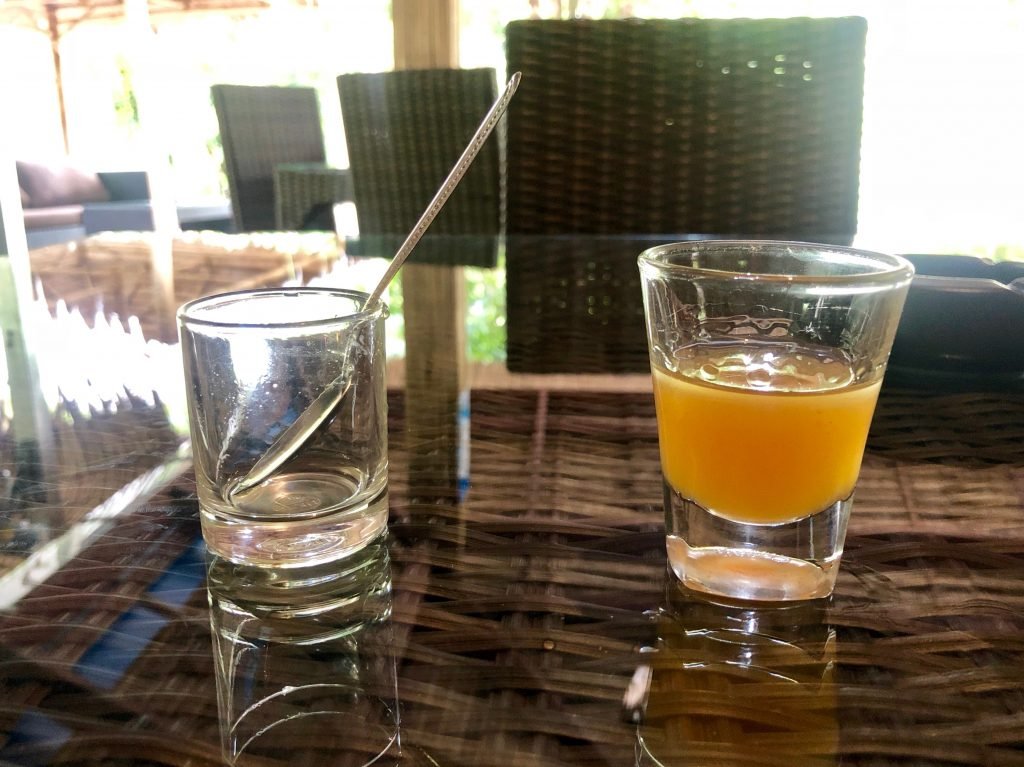 One of the things I will miss the most from the island is the fruit. Other than the sweetest mangos and watermelon on Earth, there are also many exotic fruits I've never seen. This furry little fruit is called a rambutan, and it's my favorite! You twist it open and chew around the large seed inside. The other little fruit is called a langsat. You peel it like an orange, and it's also very sweet, unless you get one of the random bitter pieces… There are also various Thai versions of common fruits. For instance, Thai bananas and pineapples are tiny! I love the mini-pineapples. They are a lot sweeter and less sour than their larger counterpart.
And I couldn't possibly leave out the funny animals on the island. It's almost like they are people! They trot along the sidewalks, cross on the crosswalks, eat the local coconuts, and even shop at 7-Eleven!! 😛 They are all in good shape, not dangerous, and fed by everyone who gives in to their puppy dog eyes.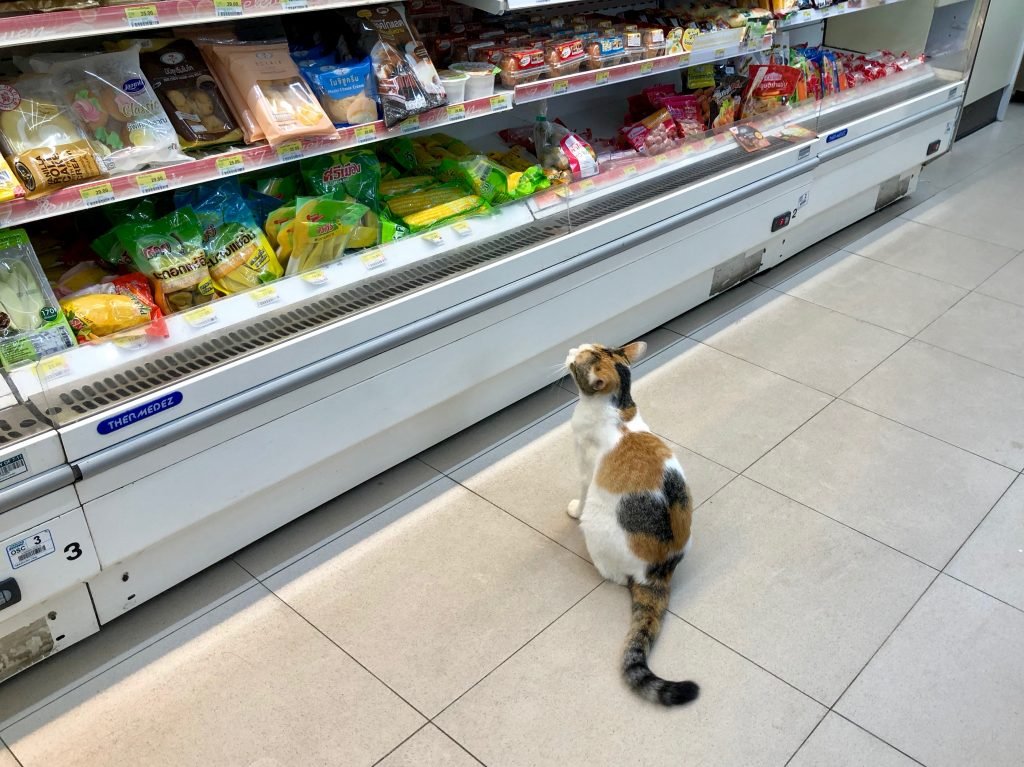 And lastly, the food… Ah, the food… I have always loved Thai food back home, but I don't know how I will survive without the locals' dishes of curry, basil chicken, and fresh seafood!
"Keep in mind how fast things pass by and are gone – those that are now and those to come. Existence flows past us like a river: the 'what' is in constant flux, the 'why' has a thousand variations. Nothing is stable, not even what's right here. The infinity of past and future gapes before us – a chasm whose depths we cannot see."

Marcus Aurelius
Where have you traveled that became a second home? Let me know in the comments below!