Bangkok, Bangkok, Bangkok. What are we going to do with you. Well, it's definitely one of the more interesting places I've been to! First, yes what you hear is true; Thailand is so cheap!! You can easily live here for less than $15 a day, including food and rent! And like most of Asia, the people are incredibly nice. There is a reason Thailand has the nickname, The Land of Smiles!
As for getting around, motorbikes run the city, and they always have the right of way. They weave in and out of lanes and always go to the front of the lights! It's really cool to see lights turn green because all the bikes take off at once.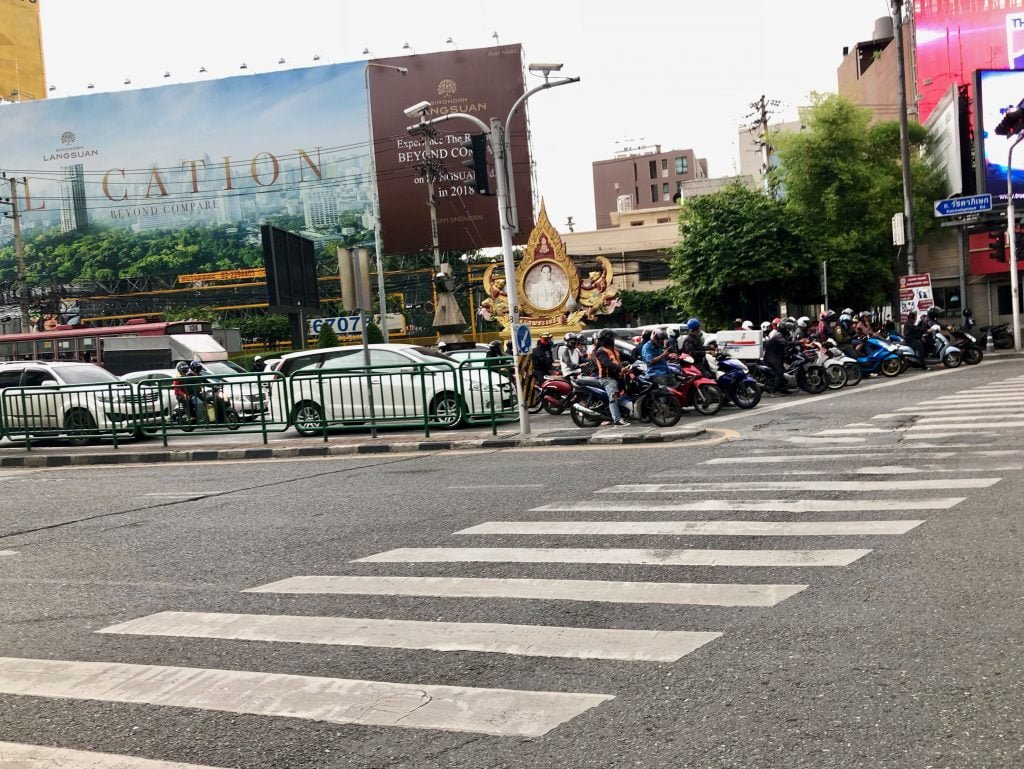 I wasn't quite ready to drive a motorbike on the Bangkok streets… so I always hailed motorbike taxis (you ride on the back of the drivers bike), which only cost a few dollars but were terrifying at first! And everything in Bangkok is negotiable! You can easily cut taxi and shop prices in half.
Anyway, I'll start with my favorite temples – all of them were extraordinary sights and very different from the temples in China and Japan. The pure size of them is incredible; they are huge! The first one I visited was the Temple of Dawn in the Grand Palace, where the King of Thailand lived until 1925.
My favorite temple was Wat Traimit. While smaller than the others, it had something very unique inside – a Buddha statue made of pure gold weighing 5.5 tons, with a cool story behind it! Originally, the Buddha was covered with plaster to conceal it from invading enemies at the time and then was forgotten. In 1955, the Golden Buddha was moved into a new building, and part of the covering plaster was accidentally broken, revealing the gold underneath!
Lastly, there was the Temple of the Reclining Buddha – the Thai sure do like their Golden Buddhas! This one in particular was so big I couldn't even get a full shot.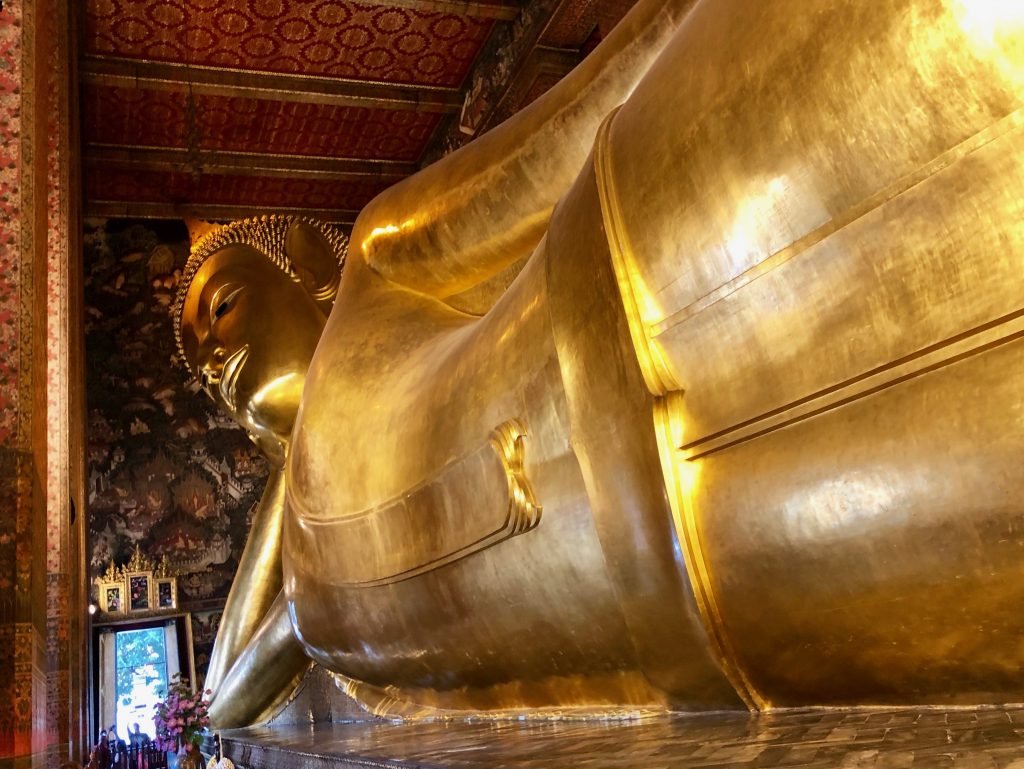 One thing I really looked forward to in Bangkok was seeing an authentic Muay Thai fight; so that first night, I went to Ratchadamnoen Stadium and got ring side tickets for only $60! It was totally worth it. You really got into the action being so close and the crowd was crazy! All the fights started with the fighters doing their ritual dance, called the wai kru, to thank their family and teachers (first photo). The stadium also had a very complex betting system with spectators yelling and waving hand signals to people in front. And then there was one fight that caught me by surprise – two kids came out; they couldn't have been more than ten years old (last two photos)! I couldn't decide if I should cheer or not… 😕
"I wasn't there to compete. I was there to win."

Arnold Schwarzenegger
One day I took a bike ride through the city with some guys from the hostel. I love biking, and we got to see some great sights we wouldn't have had time for on foot. The parks in Bangkok are very nice and have some interesting animals wandering about. The best was a komodo dragon casually hanging out at one of the small lakes! We then took our bikes on a longboat to get across the main river and went through this really cool bike path on an elevated platform through the trees.
Then of course there's the infamous Bangkok nightlife. The main strip is Khao San Road, which is basically a huge party all down the street. This place is no joke. You could probably buy anything you could ever want here, but the most popular items are the cocktail buckets. These are literally large buckets filled with a mixed drink of your choice for under $5. And just in case you've ever wanted to eat a tarantula, you can do that too for another $5!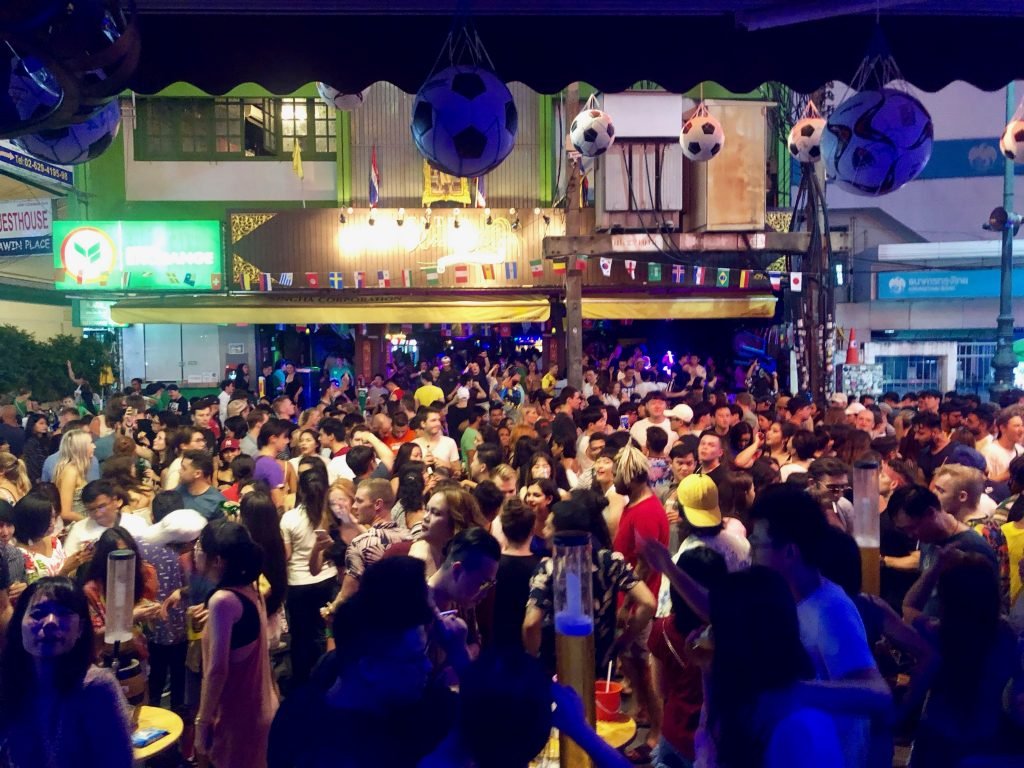 ---
And lastly, this section is dedicated to "What happens in Bangkok stays in Bangkok." Just kidding! Or Am I? 😉
…
---
CONTEST: $50 Cash Prize! Post your craziest Thailand story! [CLOSED]